Sit down and chat with Dom, our Dermal Therapist, who is the QUEEN of healthy glowing skin. Dom specialises in skin needling, chemical peels, LED treatments and microdermabrasion on the Sunshine Coast. We asked Dom some questions about herself and dermal therapy, and she provided the answers we needed to hear!
What inspired you to get into dermal therapy?
It was actually my own experience with my skin, I always suffered from acne from the age of 12, quite cystic, and I had tried everything medically available over the years. But I had no ongoing improvement. Once I merged into the beauty side of the industry (from hair), I quickly fell in love with skin health and understanding why conditions were prolonged or improved.  
How much experience in the industry do you have?
I have been in the hair and beauty industry since 2003 – beauty for 12 years and dermal for 6 of that!
What do you love most about being a dermal therapist?
I love it all. The cosmetic chemistry and biology side of it definitely keeps my brain happy. I love the caring and feel-good side of helping people feel great about themselves. And also the social side of meeting and maintaining relationships with clients. 
Is it necessary to have a consultation?
Of course! Why wouldn't you? It's a great chance to discuss and listen to clients' concerns and contributing lifestyle factors and offer advice and support to them. It also allows me to see and feel for myself any areas of concern and help put together treatment options for each individual.
What machines do you use, and why did you choose them?
Hahaha, great question! I use machines that I believe give the most cost-effective/optimal outcomes for a range of skin conditions. I like to be able to cover all bases. Whether it is more internal structure required for anti-aging, treating superficial skin laxity or visible scarring/breakouts or discolouration. We are all different. Aging and environmental damage affect us all but not in the same way, so I have chosen devices in the clinic that give me the option to treat whoever needs me.
What products are you currently using on your skin, and what is your current skincare routine? 
Well, I like to know what I'm asking clients to do, so I've usually tried and tested everything I have on our retail shelves and in my back bar cupboard! But personally, I love a hydrated, dewy skin, so I'm using Sircuit Cosmeceuticals antioxidant gentle cleanser, anti-aging firming serum or alternative Vitamin C and our hydration balm. I use a firming eye cream in the morning and after cleansing at night. I'm also enjoying our alternate retinoid cream followed by our lavish lipids oil!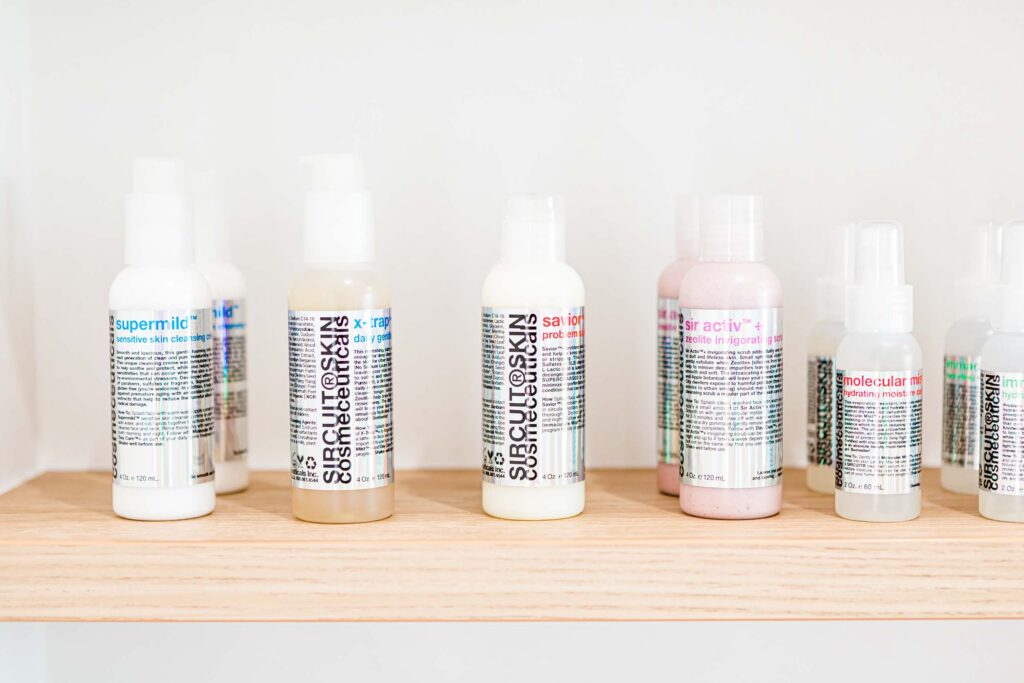 What is your favourite thing to do outside of work?
Find balance! I've been enjoying learning yoga recently. But I also enjoy a weekend away camping, dinner in the city and family time! I like to read and research too and get my feet in the sand when possible.
What skin treatment do you see becoming popular?
We're in an age of endless opportunities, the industry has changed a lot over the last ten years, and the traditional facial has been taken over by devices offering more therapeutic outcomes. So, I guess anything that can offer quicker fixes with minimal downtime. When it comes to skin, though, patience is key. We can only work with how fast the body can repair (as collagen is created through a wound healing response usually over 12/16 weeks post-treatment) but saying this, as we age, that response slows considerably. So, I would like to see more clients utilising LED in clinic, 2-3 times per week, to recharge their skin cells and get them functioning with a younger energy level, especially if you are 35+.
What is one piece of skin care advice you wish all your clients followed?
Apart from the obvious, wear your sunscreen!? HYDRATE. HYDRATE. And I mean topically! Put that skincare on even if you aren't planning on treatments. You will thank me in the coming years! Our skin is essentially an elastic band, and dried-out elastic bands do not maintain their structure or bounce. 
If you have any questions or concerns about your skin, give us a call in our new clinic or book an appointment for a personalised skin consultation.
Want to leave us a review? Click here!